Vinyl Flooring in Colorado Springs, CO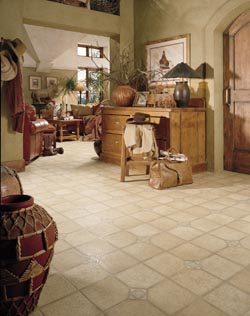 Attain the beautiful interior you want with vinyl flooring that is as stylish as it is cost effective. At our flooring showroom, we carry a wide variety of vinyl sheet flooring options that give your home a distinct look and feel. Establish a warm and welcoming atmosphere with our stylish floors. We make it simple and affordable to attain the look you want. Whether you are remodeling one room or the entire property, we have what you need to complete your project within your budget and schedule. Vinyl flooring installation is also available.
Vinyl is a versatile flooring option. Homeowners and contractors turn to vinyl flooring for its adaptability, cost-effectiveness, and ease of maintenance. Vinyl is specially manufactured to present a non-porous surface. As a result, it resists spills and stains with ease. This makes vinyl a great choice for high-traffic areas, including kitchens and bathrooms. In addition, vinyl is available in many different types, including:
Vinyl Sheet Flooring
Vinyl Tile Flooring
Vinyl Plank Flooring
Vinyl Sheet Flooring on Your Terms
For a visually stunning room, look no further than vinyl sheet flooring. This option may be cut to the size you want for simple and hassle-free installation. We work hard to keep overhead costs low so the savings are passed along to you. As a result, you pay wholesale prices for designer floors. Choose from a wide variety of patterns, designs, and colors. Our sales representatives are more than happy to help you find the sheet flooring that best suits your design goals.
Customizable Vinyl Tile Flooring
Thanks to modern manufacturing methods, vinyl flooring can be made to mimic the look and feel of other traditional flooring materials, such as stone, porcelain, and travertine. Count on our inventory of vinyl tile floors to help you attain the designs you want. Many popular brands are in-stock at our showroom for immediate delivery, such as Armstrong™ and Mannington™.
Stunning Vinyl Plank Flooring
For that timeless aesthetic appeal, choose vinyl plank flooring, which can be specially manufactured to mimic many different wood types, including the grain pattern, color, and staining. As such, vinyl planks are a cost-effective alternative to solid hardwood. Our showroom makes a point to provide discount plank flooring options that are in stock and ready to install. Simply ask a sales representative for more detail.
Vinyl Flooring Installation at Your Convenience
You deserve to have your new floor as quickly as possible. For this reason, our company proudly offers professional installers to complete your renovation. Count on us to place your new investment. Our trained and experienced team of installers takes every step necessary so your new purchase lasts for years.
Since many of the discount floors we advertise here are also in-stock at our showroom, our installers are available for immediate service. Our sales representatives are more than happy to help you pick a design and coordinate an installation date. Afterward, our vinyl flooring installation team will travel directly to your location to complete your project.
Work with a company you can trust. When our installers arrive to your property, they properly remove your old flooring and make the necessary preparations for the new installation. Then, we place your vinyl flooring according to your design plans. Our team is totally committed to your satisfaction. For us, the job is not complete until you say so.
---
Contact us today to learn more about inventory of affordable vinyl flooring. We proudly serve clients in Colorado Springs, as well as Monument, Palmer Lake, Security, and Widefield, Colorado.