Hardwood Flooring in Colorado Springs, CO
Elevate the look and feel of your Colorado Springs home effortlessly with the timeless charm of hardwood flooring. At The Floor Trader of Colorado Springs, we are the top choice for beautiful hardwood flooring in Colorado Springs, CO, and the surrounding areas. Our extensive selection caters to diverse tastes and budgets, ensuring that you find the perfect fit for your flooring renovation.
We make it incredibly easy and cost-effective to discover your dream hardwood floors. Whether you prefer an in-person experience or the comfort of online browsing, we've got you covered. Step into our showroom today to receive a personalized quote, where our experts will guide you through the options that best align with your project. Alternatively, explore our digital catalog from the comfort of your home, making finding the ideal hardwood flooring solution for your Colorado Springs residence simple. Transform your space with classic hardwood elegance – The Floor Trader is your partner in creating an inviting home atmosphere.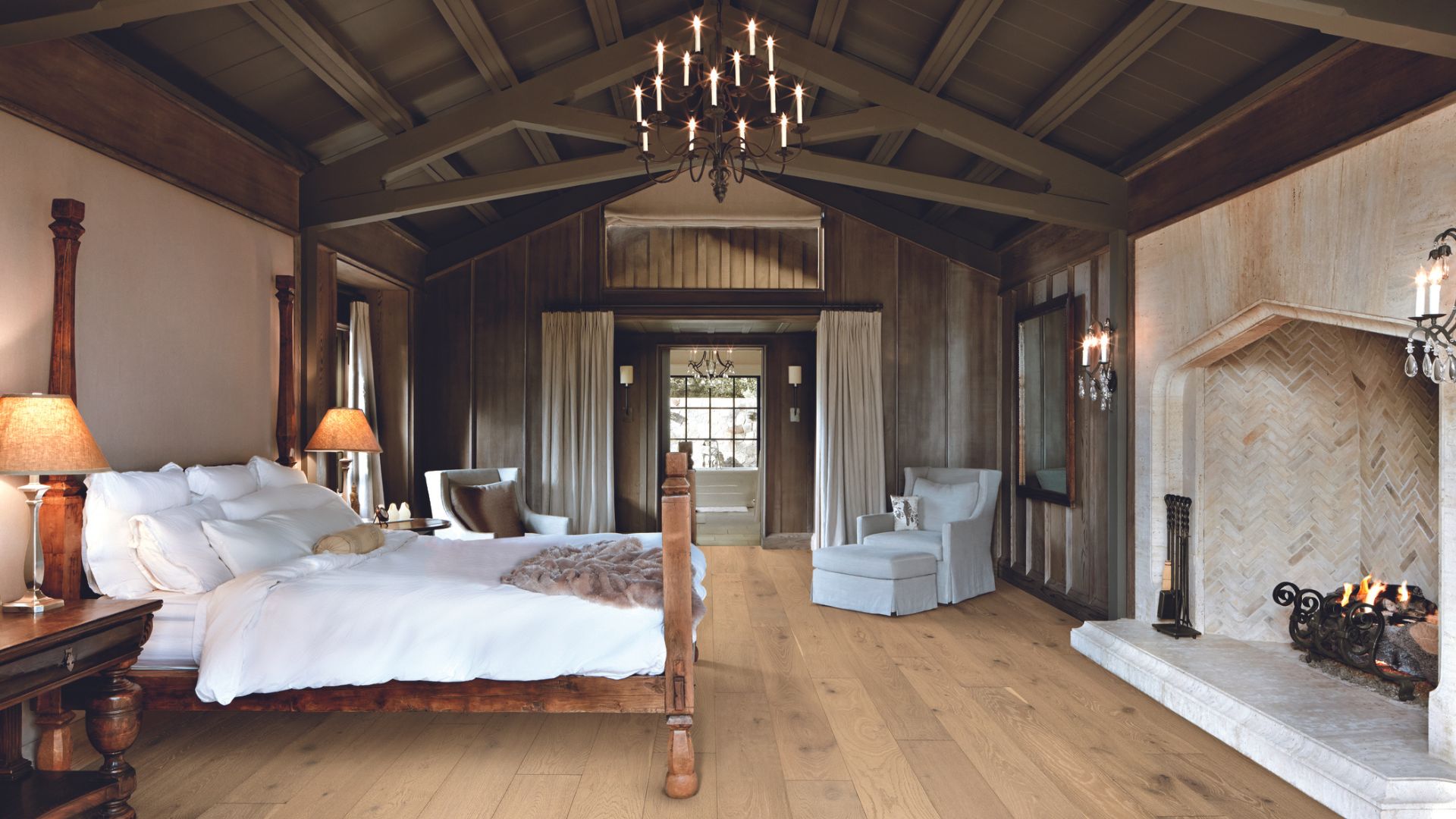 Why Choose Hardwood Floors?
Timeless Beauty

: Hardwood flooring exudes timeless charm and elegance, enhancing the aesthetic appeal of any space.

Exceptional Durability

: Known for its longevity, hardwood flooring can withstand the test of time, providing a durable and reliable flooring option.

Customizability

: With a vast array of wood species, grain patterns, finishes, and stains available, hardwood floors offer extensive customization options to match your preferences and interior decor perfectly.

Resistance to Damage

: Once sealed, hardwood floors become highly resistant to dirt, stains, and scratches, ensuring a long-lasting and pristine appearance.

Low Maintenance

: Keeping your hardwood floors

clean

is a breeze, as they only require regular dusting and approved hardwood cleaners.

Generational Investment

: When properly cared for, hardwood floors can last for generations, adding enduring beauty and character to your home. Plus, they can increase the resale value of your property.
Invest in hardwood flooring – a choice that offers timeless beauty, durability, customizability, and ease of maintenance, making it a long-term investment for your home.
Engineered vs. Solid Hardwood Flooring
When it comes to interior design, your choices can significantly impact. That's why our showroom proudly presents both engineered and solid hardwood flooring options. Whether you're looking for affordability, durability, or timeless elegance, we have the right solution.
Engineered Hardwood

: Engineered hardwood presents a unique composition, constructed from layers of wood veneer fused with a top layer of genuine hardwood. This innovative design imparts increased durability, making it less susceptible to the expansion and contraction issues often associated with changes in humidity and moisture. As a result, engineered hardwood is an excellent choice for areas prone to dampness, such as kitchens, bathrooms, and basements. Its adaptability to below-grade installations sets it apart. The blend of resilience and elegance makes engineered hardwood a practical and stylish flooring solution for your home.

Solid Hardwood

: Crafted from a single piece of wood milled to the desired thickness, solid hardwood flooring is a timeless classic. With a wide array of available wood species, this flooring can be tailored to match your aesthetic preferences. Its notable feature is its ability to be sanded and refinished multiple times, ensuring a long-lasting and durable flooring choice. The thicker construction of solid wood contributes to its sturdiness, and it offers the flexibility to achieve a satin, matte, or glossy finish, according to your taste. Solid hardwood can grace your home for a lifetime when cared for properly, making it an ideal option for bedrooms, living rooms, dining rooms, and hallways.
Explore your options and consult with our flooring experts to discover which hardwood flooring type best suits your needs and design aspirations. Your flooring choice can truly transform your space.
Why Choose The Floor Trader of Colorado Springs?
At The Floor Trader of Colorado Springs, we're committed to delivering exceptional value to our clients. When you choose us for your flooring needs, you'll discover exclusive savings on hardwood that you won't find anywhere else. Here's why we stand out:
Partnerships with Renowned Manufacturers

: We have forged strong partnerships with industry-leading manufacturers like Shaw, Mohawk, and Armstrong. These collaborations enable us to provide our customers with high-quality flooring options at wholesale prices. Our direct connections with these

trusted brands

ensure that you receive the best value possible.

Unbeatable Pricing

: Thanks to our close relationships with manufacturers, we can offer hardwood flooring at a fraction of the cost compared to other retailers. Our commitment to passing on these savings means you can achieve your dream flooring project without breaking the bank.

Expert Guidance

: Our dedicated sales representatives are here to assist you every step of the way. During your visit to our showroom, you can speak with our knowledgeable staff to learn about our current rates, promotions, and special offers. We're always ready to provide valuable insights and help you make informed decisions for your flooring project.
Whether renovating your home or embarking on a new project, The Floor Trader of Colorado Springs is your trusted partner for affordable hardwood flooring. Let us help you plan and execute your next flooring project while enjoying exceptional savings and personalized service.
Professional Hardwood Flooring Installation
Investing in a beautiful hardwood flooring product is a significant step towards enhancing the aesthetics and value of your home. However, to fully realize the benefits that hardwood offers, it's crucial to consider the next vital phase: professional installation. A subpar installation job can easily compromise Hardwood's allure and durability. Here's why opting for professional installation is a wise choice:
Preserve the Beauty

: Hardwood's natural beauty lies in its flawless appearance and seamless finish. An expert installer possesses the skills and precision necessary to ensure your hardwood floors are laid down flawlessly, showcasing the wood's natural grains and patterns to their fullest.

Ensure Longevity

: Proper installation is essential to maximize the lifespan of your hardwood floors. Professional installers understand the intricacies of hardwood installation, including the correct methods for acclimating the wood to your home's environment, which helps prevent issues like warping and buckling over time.

Avoid Installation-Related Issues

: With experienced flooring installers at the helm, you can rest assured that every detail, from subfloor preparation to the final finish, will be executed meticulously. This minimizes the risk of common installation-related problems such as uneven surfaces, squeaky floors, or gaps between boards.

Peace of Mind

: Entrusting your hardwood flooring installation to professionals provides peace of mind. You can relax and enjoy your new floors without the nagging worry of potential installation-related issues down the road.
When you've invested in high-quality hardwood flooring, it only makes sense to protect that investment with professional installation services. By doing so, you'll preserve the beauty and longevity of your floors and ensure a worry-free and satisfying experience as you admire your newly transformed living space. Don't compromise on the final step of your home improvement journey—let experienced flooring installers handle the work for you.
Contact us or visit our showroom to start shopping for new hardwood flooring. We proudly serve families and businesses in Colorado Springs, Colorado, and nearby areas.