Hardwood Flooring in Colorado Springs, CO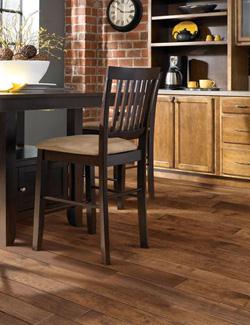 Give your home a stately atmosphere when you choose from our stunning collection of hardwood flooring. Find a new look for your interior at our flooring showroom. We make it easy to find the solid hardwood flooring you want at sensible prices. Our prices are low because we take a "no-nonsense" approach to hardwood floors. In other words, we do away with cheap gimmicks and instead place an emphasis on quality products. Visit our showroom today to get a quote for the latest hardwood flooring prices, and find the floors that best suit your next project.
The Benefits of Hardwood Flooring
Hardwood flooring is widely regarded for its beauty, durability, and ease of maintenance. Available in both solid and engineered compositions, this flooring type is available in many different wood types, grain patterns, finishes, and stains. As a result, you gain access to a wide array of design options. It gives any home interior a warming atmosphere.
Hardwood's resilient surface resists dirt, stains, and minor bumps with ease. Cleaning a wood floor is as simple as dusting it off and using an approved cleaner. When properly cleaned and maintained, your hardwood floors will last generations, adding to the elegance of your interior with time. A hardwood flooring installation is truly an investment for the future, in terms of both property value and aesthetic appeal.
Hardwood Flooring Prices That Fit Your Budget
You deserve a new, regal floor at a reasonable price. For this reason, our store works hard to secure sensible hardwood flooring prices. We cooperate with popular manufacturers, such as Shaw™, Mohawk™, and Armstrong™, to sell quality flooring options at wholesale prices. As a result, you pay a fraction of the cost compared to other retailers. Speak with one of our sales representatives during your next visit to learn about current rates, and save even more money. We are more than happy to help you start, and complete, your next flooring project.
Choose from Engineered and Solid Hardwood Flooring
When it comes to interior design, options matter. That is why we offer both engineered and solid hardwood flooring options to our customers. Thanks to our diverse inventory, we are able to sell beautiful flooring types that accommodate the size and budget of virtually any project. Speak with a sales representative to find the flooring that is right for you.
Engineered hardwood is a flooring material that is composed of several layers. Composed of a durable core layer, hardwood, and tough coatings, this option delivers all the qualities of classic hardwood at a cost-effective price point. Engineered hardwood flooring is well-respected for its durability and ability to resist spills and moisture.
Solid hardwood is the traditional option. Revered by homeowners and contractors for its longevity and distinct appearance, solid hardwood is regarded as a standard in the flooring industry. Give your home a majestic atmosphere with this flooring option. The look, feel, and fit of it in your home will be the envy of your guests.
Dependable Hardwood Flooring Installation
Count on us for all your hardwood flooring installation needs. Our professional installers have the knowledge, training, and experience to place your investment with care. As a result, the true beauty of your floor is assured. Speak with our sales representatives to learn how to include installation services with your package.
After placing your order and finalizing a date, our team delivers your new hardwood flooring directly to your location. Then, we make careful preparations and install your new flooring. Feel free to ask about additional services that make your hardwood floor installation a simple and stress-free experience. After all, we are committed to your absolute satisfaction.
---
Contact us today to learn more about your diverse hardwood flooring options. We proudly serve customers in Colorado Springs, as well as Monument, Palmer Lake, Security, and Widefield, Colorado.