Premium Flooring in Colorado Springs, CO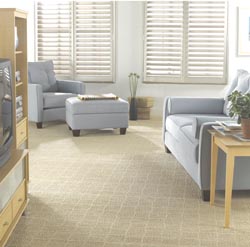 Enjoy the best flooring in Colorado Springs, CO, for prices that won't deplete your decorating budget. Visit The Floor Trader of Colorado Springs. We make it easy to complete your project without stress. With our vast selection of name brand flooring; you can take your vision further and get more of the great style you love — with no compromise on quality needed.
We're happy to help you find and compare exceptional products made from highly coveted materials, including:
Carpet
Hardwood
Laminate
Tile
Luxury Vinyl
No matter which option you choose, your shopping process is easy and transparent at our flooring store. At the end of the day, you can leave with confidence in your materials, comprehensive knowledge about their care, and the pride of knowing that you got the best deal on beautiful, lavish surfaces.
How We Do It — The Floor Trader Difference
Our prices are no accident. We've built our business on supplying the absolute best our industry has to offer for both residential and commercial customers. You deserve to have the freedom to design your way with accessible floor options, and we work hard to deliver precisely that.
We ensure that you can take advantage of leading flooring brands for less. We rely on three main strategies that our competitors can't match:
Low Overhead — We do everything in our power to minimize costs by utilizing our industry connections to get the best deals on our inventory. Then, we pass those savings along to you. Because you don't have to pay for inflated sourcing costs, we both win with unbeatable pricing.
In-Stock Floors — When you visit our showroom, you'll see options that are available right now. There's no need to wait for an order to arrive. We have the capacity to carry thousands of square feet in our on-site inventory, meaning that you save on shipping and handling fees.
Today's Technology — Home flooring is an industry that sees incredible advancements every year. By harnessing modern methods for manufacturing, storage, and logistics, we maintain a high standard of efficiency that keeps our stock full and our prices low.
Thinking Long-Term
One factor that's important to consider with any floor purchase is your ability to maintain the beauty and value of your surfaces. We can help you find products that match your desired level of maintenance, from contemporary, easy-care options to hardwood that can be resurfaced in the future. We can even help with flooring installation. Don't wait for the results you deserve. Let us lend a hand with your project today.
---
Contact us to get the look you want for less with top-notch flooring. We proudly a serve Colorado Springs, Monument, Palmer Lake, Security-Widefield, Colorado, as well as the surrounding areas.