Durable Tile Flooring in Colorado Springs, CO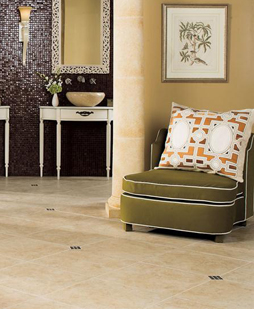 Homeowners love tile floors for their beauty, ease of maintenance, and water resistance. The only aspect they may not love is price, but that changes at The Floor Trader. We stock tile flooring in Colorado Springs, CO, from top industry brands at wholesale rates and help clients connect with preferred installers to place it in their homes. Stop by our locally owned-and-operated flooring business, and you'll find the following types of floor tiles in abundance:
Ceramic Tile: a classic with wonderful design flexibility that can go in any room and match any décor
Mosaic Tile: fits right into any kitchen, bathroom, or pool area thanks to its gorgeous patterns and non-porous features
Marble Tile: the richest and grandest of floors, marble's moisture resistance makes for easy cleaning
Travertine Tile: a worthwhile investment, as it's one of the longest-lasting floors with the right care
Porcelain Tile: the ideal mix of fashion and function, with a tough surface that can handle high foot traffic and be made into a unique aesthetic
Glass Tile: the variety of colors, patterns, and styles simply can't be beat; there's something here for every taste
Opt for Strength with Slate Tile
Though most of our floors offer fine functional benefits, slate has the most durability there is in addition to the highest level of water and scratch resistance. Parents and pet owners alike appreciate the ability to let their little ones run around worry-free. We give them the peace of mind that they'll still have smooth, stain-free, beautiful floors at the end of the day.
Ask Us About Tile Flooring Installation Resources
The first thing a floor needs to do its job well is a proper installation by trained professionals. The Floor Trader of Colorado Springs knows many of the area's most qualified sources for this kind of work and is happy to connect you with them. Investing in a good start for your floor is sure to pay off since it means you won't have to worry about spending a lot of money on repairing a poor installation job or on replacing your floor before its time.

In addition to tile flooring, we also offer assistance with selection and installation for plenty of other materials. You can consider us your all-inclusive resource for floors such as:
Solid and Engineered Hardwood
Vinyl
Carpet
Laminate
Luxury Vinyl
---
Contact to speak to one of our flooring professionals. We serve clients from Colorado Springs, Monument, Palmer Lake, and Security-Widefield, Colorado, and the surrounding areas.